Sisodia Rani ka Bagh Jaipur, aka Sisodia Rani garden, is one of the top tourist attractions of Pink City. This garden (bagh) is an interesting amalgamation of romance, historicity, architecture, and natural beauty.
The garden is designed in the Mughal style of garden layout 'Charbagh' or the quadrilateral layout, where the garden is divided/intersects with pathways into smaller parts.
Sisodia Rani Bagh is a lush green garden with a variety of flowers, water fountains, and a palace with a great architect and beautiful murals of Radha-Krishna.
A Brief History of Sisodia Rani ka Bagh
Sisodia Rani Bagh, Jaipur, an ornate garden, was built by Maharaja Sawai Jai Singh of Jaipur in 1728 for his beloved second wife from the Udaipur royal Sisodia family.
This and its adjacent garden had been the relaxing and recreational place for the queen. It was away from royalty and city life, right in the lap of nature with Aravalli hills as the backdrop of the garden. Because of its beauty and great landscape, many Bollywood film scenes have been shot here.
At present, the garden and a section of the palace are open to visitors. Here, one can relax and relish the greenery and clean air of the garden. It is an ideal place for photography and history enthusiasts.
Suggested Reading: Top 10 Sunset Points in Jaipur
Location and Address of Sisodia Rani Bagh Jaipur
Sisodia Rani Bagh is situated in laal dungri area on Jaipur-Agra Road. It is well connected to the city. The Jaipur sightseeing taxi or prebooked local auto/taxi is available to take you here.
Timings of Sisodia Rani ka Bagh
Opening Time: 8 AM
Closing Time: 5 PM
It is open on all days of the week.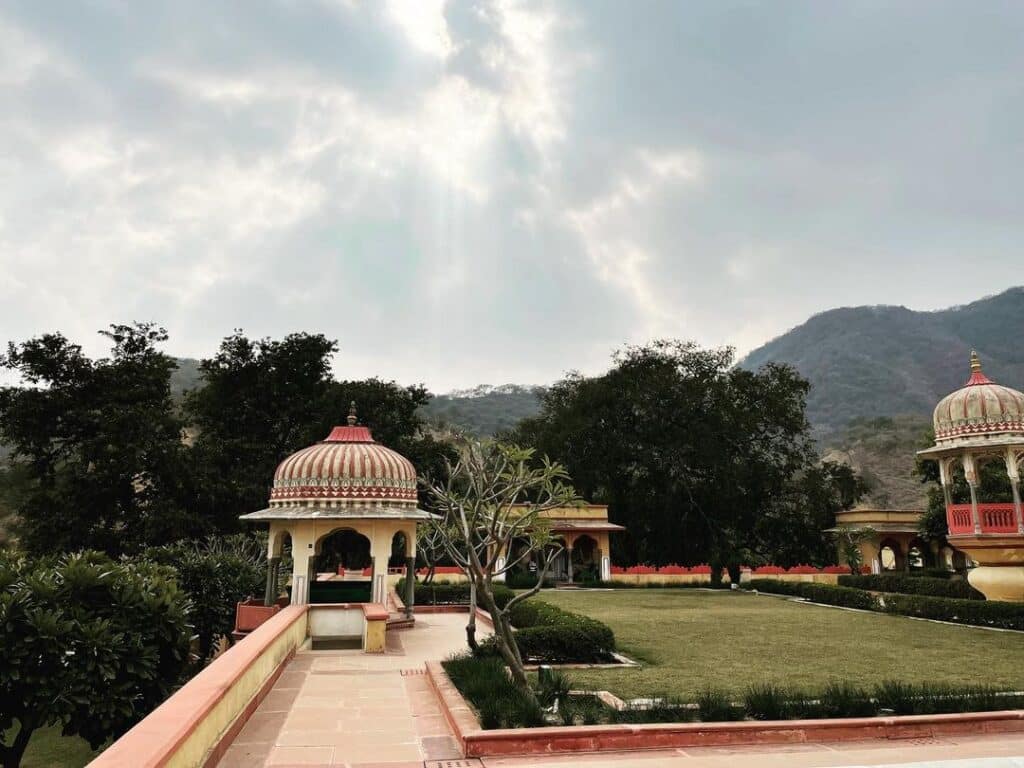 Ticket Price or Entry Fee
INR 50 (Indian visitors)
INR 200 (foreign tourists)
Also Read: Jal Mahal Jaipur: All Latest Details
Hotels Near Sisodia Rani Garden Jaipur
1. Regenta Inn, Jaipur
Located near the Sisodia Rani Bagh, Regenta Inn Hotel is a nice place to stay. It has all the amenities a tourist would require for a comfortable stay. The luxurious rooms, rooftop lounge, dining restaurant, and modest staff would make your day. The staying and dining experience is great and worth your time and money.
2. Hotel Rajasthan Palace
The hotel is equipped with all the facilities and luxuries. Spacious and well-maintained rooms have traditional Rajasthani cultural vibes. The hotel also has a rooftop restaurant and a swimming pool to give its guests a memorable experience filled with good food and fun.
3. The Fern Residency
The Fern Residency is a bit on the pricy side, but it offers the best services a guest could imagine. The rooms at The Fern are elegant and spacious. Well-mannered staff and world-class service make the hotel stand out. An outdoor pool and spa service, bar, and fitness center ensure the stay experience full of opulence and comfort.
4. Divya Villa
Divya Villa provides nice accommodation at an affordable price. Its prime location is close to many tourist attractions. The rooms and beds are neat and clean. Friendly staff and nice ambiance, and tasty food would certainly make the stay an enjoyable and comfortable experience.
5. Hotel Broadway
Hotel Broadway offers premium facilities at an economic price. The hotel has got a nice pool and fine dining. It surely is a smart choice for travelers as the staff is well-behaved and professional. The hotel fares well on criteria such as hotel location, facilities, value for money, etc.
Suggested Reading: Guide to Panna Meena Ka Kund Jaipur
Restaurants Near Sisodia Rani Ka Bagh Garden
1. Once Upon a Time at the Bagh
Very close to Sisodia Rani Bagh in Jaipur is situated this amazing dining place. 'Once upon a time at the Bagh' is known for its delicious north Indian and Mughlai cuisine. Other than the food, the dining provides a comfortable seating area, a relaxed atmosphere, and a romantic candlelight dinner at request.
2. Falafel House
Falafel house is a nice middle eastern dining place. Falafel house is your next food destination if you want to experience something different than your regular meal. Here, Middle eastern food items include falafel, hummus, and Tahiti, other than some equally good local food items.
3. Niros Restaurant
Niros restaurant offers a variety of lavish cuisines to the guests. The menu offers traditional Rajasthani dishes, a variety of veg and non-veg options, fast food, and beverages. The premium decoration and interior of the restaurant provide a great combination of good food and a nice ambiance.
4. Jharokha- The Heritage Retro
Located nearly 5 km from Sisodia Rani Bagh palace, Jharokha represents the Rajasthani spirit in its food, style, and interior. Jharokha is famous for its vegetarian north and south Indian cuisine, fast food, and beverages. Jharokha offers a comfortable ambiance and lip-smacking dishes to its guests.
5. Sweet Dream Chatkara
Sweet dream Chatkara restaurant is a clean and hygienic dining spot offering Indian, Italian, and Chinese cuisines at a reasonable price. Nice and attentive staff, comfortable seats, and good quality tasty food keep the restaurant in the good books of food lovers.
Places to Visit Nearby
1. Albert Hall Museum
Albert hall museum is a grand historic building and the oldest museum in Rajasthan state. Named after Britain's king Edward VI (Albert Edward), it was opened publicly in the year 1887. Albert hall museum houses some of the priceless collections of art, jewelry, paintings, and sculptures from different historic periods.
2. City Palace
The city palace of Jaipur was established by Maharaja Sawai Jai Singh II around the year 1727. This beautiful palace has historically been the seat of the royal administration until 1947. At present, the City Palace has been turned into Sawai Maan Singh Museum II.
The museum has a rich royal collection of artifacts, weaponry, textiles, and pictures. The city palace also has many smaller mahals within its premises. The architect, the historicity of the place, and the adjacent garden make the city palace a must-visit place for all visitors.
3. Hawa Mahal
Situated nearly 5 km from Sisodia rani Bagh, Hawa mahal, 'the air palace' is one of the most famous landmarks of Jaipur city. This iconic red sandstone structure was built by Maharaja Sawai Pratap Singh in the year 1799.
Hawa Mahal is a popular historic monument visited by hundreds of local and international tourists every day. Hawa Mahal is said to have 953 small widows (Jharokaas) for air ventilation and to give an outside view to the royal ladies from the castle window in the king's time.
4. Birla Temple
Birla temple, or Swami Narain temple, is a modern structure near Sisodia rani bagh. The temple is a grand structure and is visited by thousands of people every day, both devotees and casual visitors. It is open to all, and one can visit to see daily pooja and other temple rituals.
A visitor can also spend quality time by visiting a museum inside the temple. Many beautiful paintings and deity statues are also there to be seen. Birla temple is a religious place where one can spend some time to rekindle peace and spirituality within.
Also Read: Smriti Van Jaipur: Timings, Ticket Price, Full Guide
Wrapping Up
Lastly, Sisodia Rani ka Bagh of Jaipur is indeed a symbol of love, a king's way of expressing his feelings to his queen. Sisodia Rani Bagh is a bit underrated tourist spot, and perhaps that is the reason for its being the favorite hangout place for solo and couple travelers. Only those tourists and locals who think of moving away from Jaipur city for a change would take the effort to come here.
Book Jaipur Sightseeing Taxi for a memorable and hassle-free travel experience.