JAIPUR TO UDAIPUR TAXI SERVICE
Looking for a cost-effective and comfortable Jaipur to Udaipur cab? Call us now to book your preferred taxi and enjoy your outstation trip!
At Om Taxi Zone, we have served over 55,000 travelers in Rajasthan. We offer simply the best taxi service in Jaipur for one-way, round-trip, and local sightseeing. You have the option to choose the cab of your choice, as per the level of comfort and the number of passengers. Contact now for Jaipur to Udaipur taxi booking online.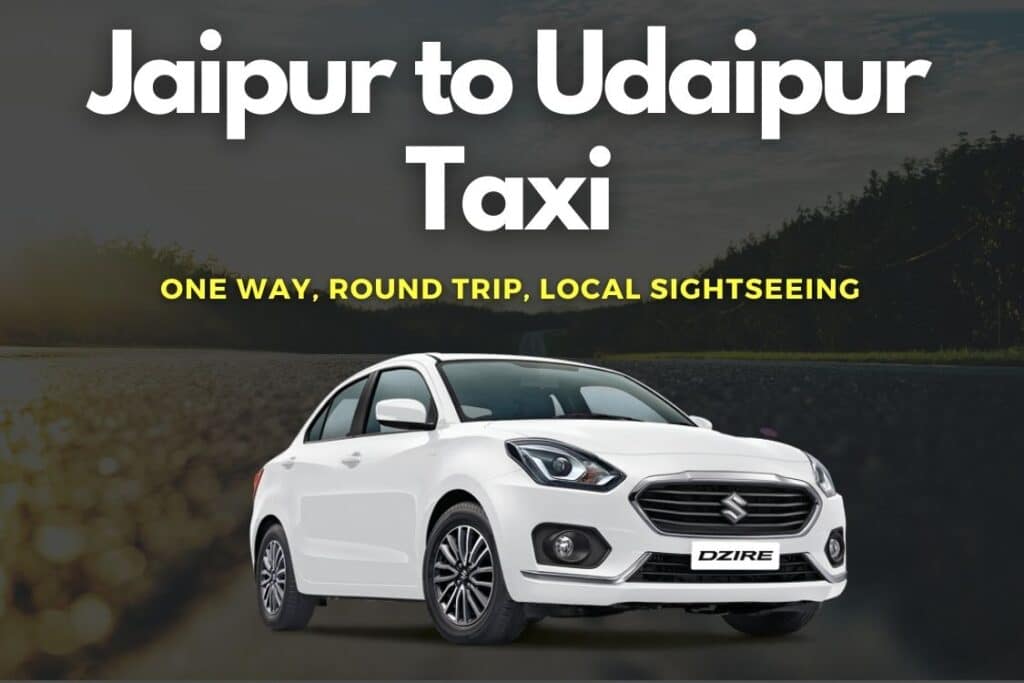 Jaipur to Udaipur One Way Taxi Booking
Suitable if you want to travel a single way and save half of Jaipur to Udaipur cab fare
Save 50% on your travel costs!
When you opt for our Jaipur to Udaipur one way cab service, we make sure that you get the desired traveling experience at a reasonable price.
In the business for the last 10 years, we are proud to provide the best taxi service in Jaipur and all over Rajasthan. Thousands of travelers have rated a positive experience, with an average rating of 4.8/5. The majority of our customers are repetitive because of the kind of service we offer for customer satisfaction. 
Jaipur to Udaipur car rental is among the top routes that we offer. You can travel from the Pink City to the Lake City hassle-free, at a low cost, and with a great experience. All our drivers are verified, professional, experienced, and friendly. Our aim is to ensure that you get no hurdles on your route. 
Have questions about our Jaipur to Udaipur taxi fare or cab charges? Call us now!
Advance Booking Available
Lowest Jaipur to Udaipur Cab Fare
When you travel by Om Taxi Zone, we provide you with Jaipur to Udaipur taxi for one way and round trip at the lowest fare in entire Rajasthan. You will find no surprises in the form of hidden or additional costs. 
All you need to pay for Jaipur to Udaipur taxi service is the fare calculated on the basis of the number of kilometres you travel with us. The per kilometre charges for our Jaipur to Udaipur car rental vary on the type of car you choose, like Sedan, SUV, etc.
Distance Between Jaipur to Udaipur by Road
Jaipur to Udaipur Travel Time
Best way to travel from Jaipur to Udaipur
Jaipur to Udaipur Taxi Cost/Fare
Most Trusted Jaipur to Udaipur Taxi Service & Car Rental
Udaipur, also popular as the Lake City of India, is a must-visit place in Rajasthan and India. When you look for Jaipur to Udaipur cab service, Om Taxi Zone provides you with the most convenient travel experience, while ensuring your comfort and safety. 
Thousands of customers all over Rajasthan and the country rely on us, not only for Jaipur to Udaipur car rental, but also for other popular routes. We offer private taxi service in Jaipur at a reasonable fare and a well-maintained fleet. 
Our team of drivers are licensed, experienced, professional, and friendly to ensure that you enjoy your travel from Jaipur to Udaipur by car. You can choose to have multiple stoppages on the way for lunch, snacks, water, or dinner. Customer satisfaction is always our highest priority.
Cab for Best Places to Visit Near Udaipur
In addition to Jaipur to Udaipur taxi for outstation, we also provide cars for the Lake City tour and places to visit nearby within 200 km.
Nathdwara, a holy place, is famous for the Shrinathji temple. It is located nearly 45 km from Udaipur in the Aravali Hills. 
Around 50 km from Udaipur, this place is known for turmeric-colored soil and battle between Maharana Pratap and Akbar. 
Located nearly 85 km from Udaipur, Kumbhalgarh Fort is the must-visit place in Rajasthan. Call now for Jaipur to Udaipur to Kumbhalgarh fort. 
During your Udaipur trip, you must visit the Ranakpur village as it is a significant pilgrimage place for Jains. It's around 95 km from Udaipur.
115 km from Udaipur, Chittorgarh is a majestic place in Rajasthan and houses one of the largest forts in India.  
Mount Abu is the only hill station in Rajasthan which is a must-visit place near Udaipur. Around 165 km from Udaipur, it will make your trip all the more beautiful. 
Why Choose Us for Jaipur to Udaipur Taxi Booking?
We have served 55,000+ customers in Rajasthan with our outstation cab service in Jaipur!
Udaipur Sightseeing Taxi (Jaipur Udaipur Tour)
Explore the best tourist places in Udaipur and Jaipur with Om Taxi Zone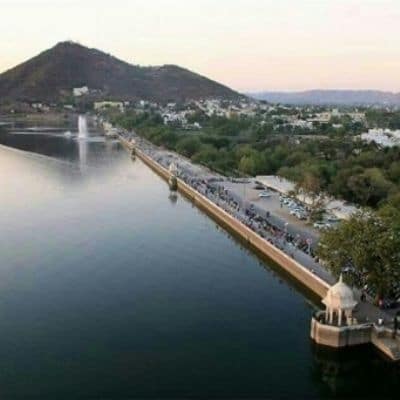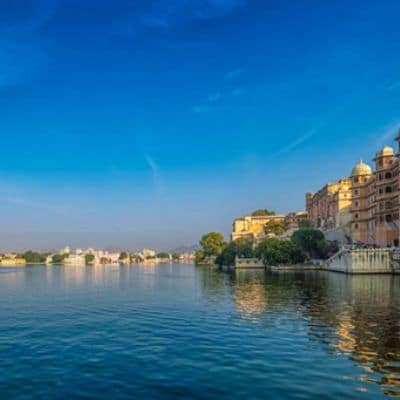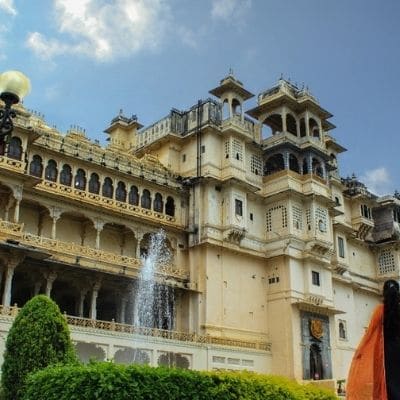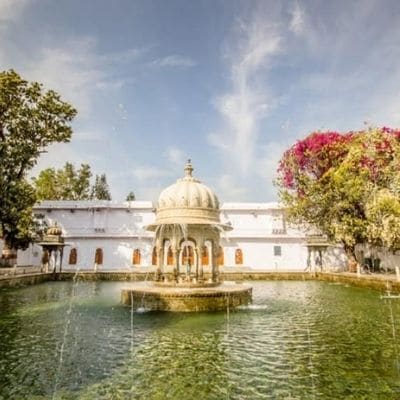 Fleet Available for Jaipur to Udaipur Cab Booking
Choose Jaipur to Udaipur car according to the number of passengers and your comfort.
Jaipur to Udaipur Toll Tax and Plazas (For Cars)
The total number of toll plazas between Jaipur to Udaipur by road is 8. The locations of these toll plazas are Kishangarh, Thikariya, Baggad, Bagaliya, Gegal, Pipalaz, and Mandawada Gomti. 
Here's the breakdown of all the Jaipur to Udaipur toll tax with a final cost:
| | | |
| --- | --- | --- |
| Sr. No. | Toll Plaza Name and Location | One Way Toll-Tax |
| 1 | Kishangarh (Badgaon) | ₹45 |
| 2 | Thikariya (Jaipur) | ₹70 |
| 3 | Baggad (MoRTH) | ₹40 |
| 4 | Bagaliya (MoRTH) | ₹40 |
| 5 | Gegal | ₹65 |
| 6 | Pipalaz | ₹60 |
| 7 | Mandawada (Gomati) | ₹45 |
| 8 | Negadiya | ₹145 |
|   | Total Cost | ₹510 |
Call Us Now for Taxi from Jaipur to Udaipur!
We are ready to serve you 24/7/365. Book your Jaipur to Udaipur cab for one way or round-trip now! Additionally, we also provide taxi for Jaipur Udaipur Trip. Our cabs are available all over Rajasthan.
Jaipur to Udaipur Cab Service FAQs
Find answers to some of your common questions while booking Jaipur to Udaipur taxi service.
Book Jaipur to Udaipur Taxi Online!
Fill the form for Jaipur to Udaipur cab booking, local sightseeing taxi, or any other outstation taxi from Jaipur.