Jaipur Airport Taxi Service
Book the most affordable airport taxi service in Jaipur for pick-up, drop-off, and transfer. Whether you want to be picked up from the airport or want to be dropped off at the airport, we offer the best Jaipur airport taxi service. 
Say goodbye to the hassle of searching for a Jaipur airport cab or worrying about unprofessional drivers. We offer a wide range of meticulously maintained cars to suit your needs and preferences. Whether you're traveling solo, with family, or in a group, we have the perfect vehicle for you.
Call us now to book your car now!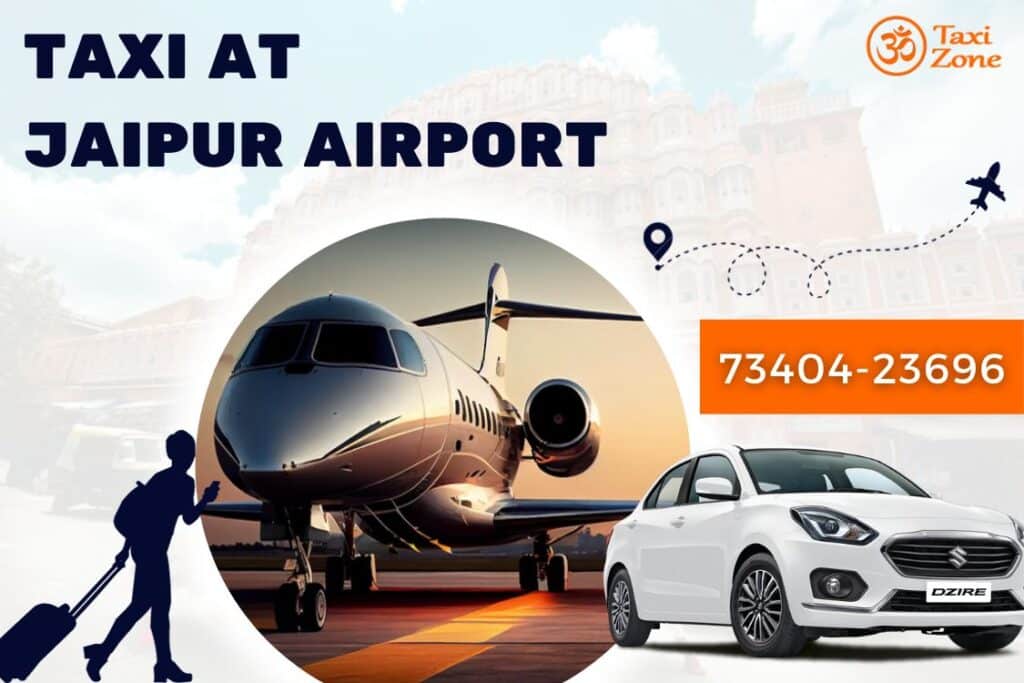 Book Jaipur Airport Taxi at Discounted Price
We believe that great journeys should be accessible to everyone. That's why we're thrilled to offer you the opportunity to book your Jaipur Airport taxi at a discounted price, making your travel not only comfortable but also budget-friendly.
Choose Car for Airport Taxi Service in Jaipur
Choose the car according to the number of passengers and your comfort.
Book Outstation Cabs from Jaipur Airport
Your journey to Rajasthan begins the moment you step off the plane at Jaipur Airport. At Om Taxi Zone, we're here to ensure that your travel experience is not just convenient but also an exploration of the wonders of this enchanting state.
We offer taxi at Jaipur airport to numerous cities and towns in Rajasthan, each with its unique charm and allure. With our punctual, professional, and affordable services, you can travel conveniently.
No matter where you wish to go, our fleet of well-maintained vehicles and experienced drivers are ready to accompany you on your journey. We take pride in being your trusted travel partner, ensuring your comfort and safety throughout your trip.
Your adventure in Rajasthan starts with a hassle-free ride from Jaipur Airport. Book your taxi with Om Taxi Zone, and let the exploration begin. Welcome to the land of colors, culture, and captivating experiences.
Popular Routes Of Our Jaipur Airport Cab Service
 Your journey begins with a click – book your Jaipur Airport taxi now and embark on an adventure that won't break the bank. Travel smart with Om Taxi Zone! Here are some of our popular routes:
Visit the Blue City with our outstation taxi from Jaipur Airport to Jodhpur at a low cost. 
Jaipur Airport to Ranthambore
Embark on a thrilling wildlife adventure from Jaipur Airport to Ranthambhore National Park.
Experience spirituality on a seamless cab ride from Jaipur Airport to Ajmer Sharif.
Travel to the capital of India with our Jaipur to Delhi one way taxi & round-trip service. 
Jaipur Airport to Churu Taxi
Explore the charming town of Churu with the convenience of a cab from Jaipur Airport.
We have both round-trip and one way cab from Jaipur Airport to Kota at no hidden charges.
Jaipur Airport to Sawai Madhopur
Embark on a safari adventure from Jaipur Airport to Sawai Madhopur.
Jaipur Airport to Chomu Taxi
Uncover the heritage and culture of Chomu with a hassle-free cab journey from Jaipur Airport.
Jaipur Airport to Samode Palace
Indulge in luxury and history with a cab ride from Jaipur Airport to the exquisite Samode Palace.
Jaipur Airport to Pushkar Taxi
Experience spirituality and tranquility on your ride from Jaipur Airport to the sacred town of Pushkar.
Jaipur Airport to Mount Abu Taxi
The only hill station in Rajasthan, Mount Abu is a serene retreat with cool climate and beautiful landscapes.
Jaipur Airport to City Center Taxi
Reach the Jaipur city center from Airport to any location with our taxi service. 
Why Book Jaipur Airport Taxi With Us?
Jaipur Airport One-Way Taxi Service
For solo travelers or those with specific travel needs, our Jaipur Airport One-Way Taxi Service offers the perfect solution. Experience the freedom of traveling to or from the airport with unmatched convenience and affordability.
Call Now to Book Your Taxi to/from Jaipur Airport!
We are ready to serve you 24/7/365. Book your Jaipur airport cab now! Our cabs are available for all over Rajasthan. You can also rely on us for local sightseeing, and other outstation routes.
Jaipur Airport Distance From Top Places & Locations
Here's a table showing approximate distances from Jaipur International Airport to popular locations and places in Jaipur:
| | |
| --- | --- |
| Destination | Distance from Airport |
| Jaipur Airport to City Center | 13 kilometers  |
| Jaipur Airport to Hawa Mahal | 13 kilometers |
| Jaipur Airport to Amer Fort | 21 kilometers  |
| Jaipur Airport to City Palace | 13 kilometers  |
| Jaipur Airport to Jantar Mantar | 13 kilometers |
| Jaipur Airport to Albert Hall Museum | 12.5 kilometers  |
| Jaipur Airport to Jal Mahal | 20 kilometers |
| Jaipur Airport to Nahargarh Fort | 27 kilometers  |
| Jaipur Airport to Jaipur Railway Station | 12 kilometers |
| Jaipur Airport to Jaipur Bus Stand (Sindhi Camp) | 13 kilometers  |
| Jaipur Airport to Birla Temple | 8 kilometers |
Jaipur Airport Taxi Rates
| | |
| --- | --- |
| Type of Cab | Approximate Fare (Starting price) |
| Sedan Car | ₹1,000  |
| SUV Car | ₹1,500 |
| Tempo Traveller | ₹1,800 |
Book Jaipur Airport Taxi Online!
Fill the form to book a car to/from Jaipur International Airport, or any other taxi. 
Here are some frequently asked questions (FAQs) related to Jaipur airport cab service:
Jaipur International Airport, also known as Jaipur Airport, is the primary airport serving the city of Jaipur, the capital of the Indian state of Rajasthan. It is one of the busiest airports in the northern part of India and a significant gateway for both domestic and international travelers visiting Jaipur and the surrounding regions.
Here are some key details and features of Jaipur International Airport:
Location:
Jaipur Airport is located in the suburb of Sanganer, approximately 13 kilometers (8 miles) from the city center of Jaipur.
Terminal:
The airport has two passenger terminals – Terminal 1 (T1) for domestic flights and Terminal 2 (T2) for international flights. Terminal 2 was inaugurated to handle the growing international traffic.
Domestic and International Connectivity:
Jaipur Airport serves as a major hub for domestic flights within India, connecting Jaipur to various cities across the country. It also operates international flights to destinations in the Middle East and Southeast Asia.
Passenger Services:
The airport offers a range of passenger services, including baggage services, customs and immigration facilities, duty-free shopping, restaurants, lounges, and car rental services.
Expansion and Modernization:
Jaipur Airport has undergone significant expansion and modernization in recent years to accommodate the growing number of passengers. This includes the construction of a new international terminal and the expansion of domestic terminal facilities.
Cargo Operations:
The airport also handles cargo operations and has a cargo terminal for the transportation of goods and commodities.
Awards:
Jaipur International Airport has received awards for its services and facilities, including recognition for its cleanliness and passenger satisfaction.
Accessibility:
The airport is well-connected to the city center by road, and various modes of transportation.
Jaipur International Airport plays a crucial role in facilitating tourism, trade, and commerce in the region and serves as the main entry point for visitors exploring the historical and cultural treasures of Rajasthan, also known as the "Land of Kings."
Vaishali Nagar
Malviya Nagar
Jagatpura
Mansarovar
Ajmer Road
Bani Park
Nirman Nagar
Kalwar Road
Bapu Nagar
Adarsh Nagar
Sanganer
Raja Park
Vidhyadhar Nagar
Jawahar Nagar
Sitapura
Bais Godam
Sodala
Jhotwara
Amer
Pratap Nagar
Gopalpura
Panchyawala
Jaipur International Airport offers a range of amenities and services to make the travel experience for passengers more comfortable and convenient.
Some of the key amenities and facilities you can find at the airport include:
ATMs and Currency Exchange:
Multiple ATMs and currency exchange counters are available within the airport for the convenience of travelers.
Duty-Free Shopping:
The airport features duty-free shops where passengers can purchase a variety of products, including electronics, cosmetics, jewelry, and souvenirs, often at reduced prices.
Retail Outlets:
In addition to duty-free shops, there are various retail outlets selling clothing, accessories, books, and other items.
Restaurants and Cafes:
Jaipur Airport offers a selection of restaurants, cafes, and snack bars where travelers can enjoy a range of Indian and international cuisines, snacks, and beverages.
Lounges:
There are both domestic and international lounges available for passengers, including those with memberships or premium tickets, providing a comfortable space to relax, work, or refresh before their flights.
Wi-Fi:
The airport offers free Wi-Fi connectivity to help travelers stay connected while waiting for their flights.
Information Desks:
Information desks and kiosks are positioned throughout the terminals to assist passengers with queries, flight information, and directions.
Baggage Services:
Luggage trolleys, baggage wrapping services, and baggage handling facilities are provided to ensure the smooth handling of passengers' belongings.
Car Rental Services:
You can book taxi at Jaipur airport with Om Taxi Zone for a reliable and convenient experience.
Medical Facilities:
A medical room with basic first-aid facilities and medical assistance is available for any health-related emergencies.
Child Care Facilities:
There are baby care rooms with changing tables and nursing facilities for passengers traveling with infants.
Accessibility Services:
The airport is equipped with facilities for travelers with reduced mobility, including ramps, elevators, and accessible restrooms.
Parking Facilities:
The airport provides ample parking space for both short-term and long-term parking needs.