Jaipur to Pushkar Cab (Taxi Booking)
Our Jaipur to Pushkar taxi service offers you:
Affordable Comfort

: Travel in style without breaking the bank. We offer competitive rates that won't dent your wallet.

Reliable Rides

: With experienced drivers and a fleet of well-maintained vehicles, your journey is always safe, punctual, and comfortable.

Tailored to You

: Customize your trip with flexible options. Whether it's a one-way jaunt or a full day's adventure, we've got you covered.
Book Jaipur to Pushkar cab with us for a stress-free ride. Our 5/5 Google rating and the trust of over 15,000 travelers speak to our commitment to making your journey exceptional.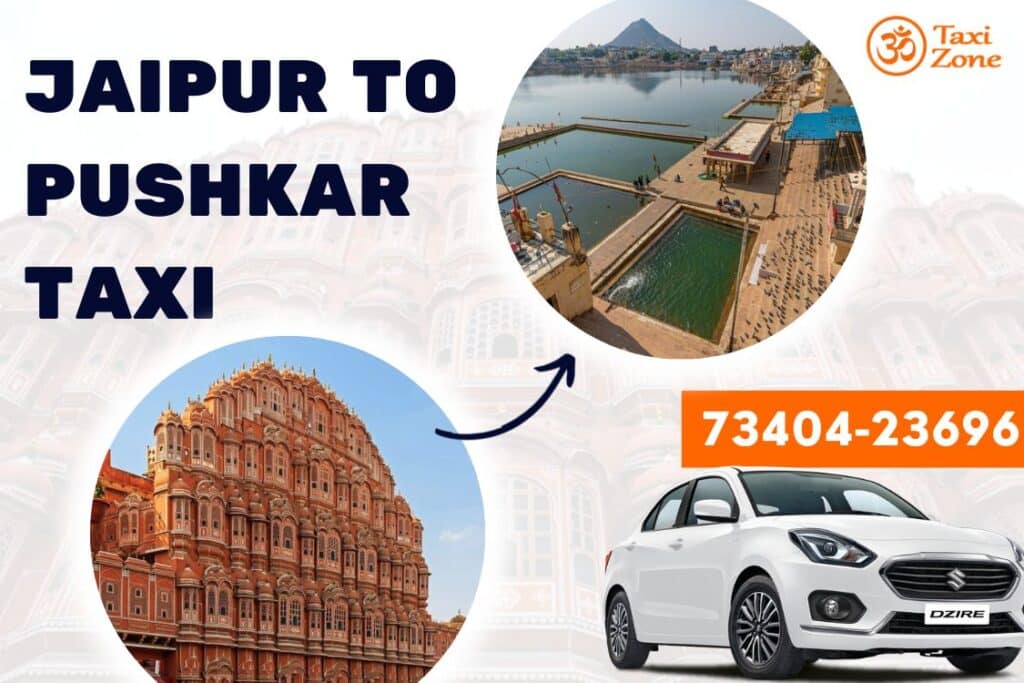 Affordable Jaipur to Pushkar Taxi
Discover the beauty of Pushkar without spending too much. Our low-cost travel options make it easier than ever to explore this enchanting destination. Enjoy comfort, reliability, and savings with Om Taxi Zone.
Fleet for Jaipur to Pushkar Taxi Service
Choose the car according to the number of passengers and your comfort.
Jaipur to Pushkar Taxi & Route Information
Are you planning a journey from the Pink City, Jaipur, to the serene town of Pushkar? Here's everything you need to know about this picturesque route:
Distance:
The distance from Jaipur to Pushkar by road is 142 kilometers via NH48 and NH448.
Estimated Travel Time:
The estimated travel time between Jaipur and Pushkar is typically around 2.5 to 3 hours by road, depending on traffic conditions and the specific route taken.
Scenic Drive:
As you leave Jaipur behind, you'll venture through the beautiful landscapes of Rajasthan, passing through quaint villages and enjoying views of the Aravalli Hills along the way.
Attractions En Route:
While traveling from Jaipur to Pushkar, consider making stops at attractions like the historic Ajmer Sharif Dargah in Ajmer and the Ana Sagar Lake. These add a touch of cultural richness and natural beauty to your journey.
Travel Tips:
It's advisable to start your journey early to avoid traffic and to fully savor the sights and sounds of Rajasthan along the route. Also, keep in mind the local customs and traditions when visiting Ajmer and Pushkar, two culturally significant destinations.
Why Choose Us for Jaipur to Pushkar Cab?
At Om Taxi Zone, we take pride in being your trusted travel partner for the Jaipur to Pushkar cab service. 
One-Way Cab From Jaipur to Pushkar
Simplify your journey with our Jaipur to Pushkar one-way cab service. Experience the convenience of a comfortable ride to your destination without the need for a return trip. Make your travels efficient with Om Taxi Zone.
Ready to Begin Your Journey? Call Now to Book Jaipur to Pushkar Cab!
We are ready to serve you 24/7/365. Book your cab from Jaipur to Pushkar now! Our cabs are available for all over Rajasthan. You can also rely on us for local sightseeing, and other outstation routes.
Jaipur to Pushkar Taxi Fare
| | |
| --- | --- |
| Type of Car | Jaipur to Pushkar Taxi Rate |
| Hatchback | ₹1,599 |
| Sedan | ₹1,799 |
| Ertiga | ₹1,999 |
| SUV | ₹2,499 |
Book Jaipur to Pushkar Taxi Online!
Fill the form to book your desired car on rent from Jaipur to Pushkar.
Jaipur to Pushkar Cab FAQs
Here are some frequently asked questions (FAQs) related to Jaipur to Pushkar taxi service: