Best Taxi Service in Jaipur (Book Cab in Jaipur)
Are you looking for reliable and comfortable taxi services in Jaipur? Look no further! Om Taxi Zone is here to cater to all your transportation needs, whether you're exploring the beautiful Pink City or looking to on the journey to various cities in Rajasthan and across India.
At Om Taxi Zone, we offer a wide range of options to suit your travel preferences. Whether you're planning a leisurely vacation, a business trip, or a weekend getaway, our fleet of Sedans and SUVs are at your disposal. Sit back, relax, and let our experienced drivers take you to your destination safely and in style.
Call us now to book cab service in Jaipur!
Most Preferred Outstation Taxi Service in Jaipur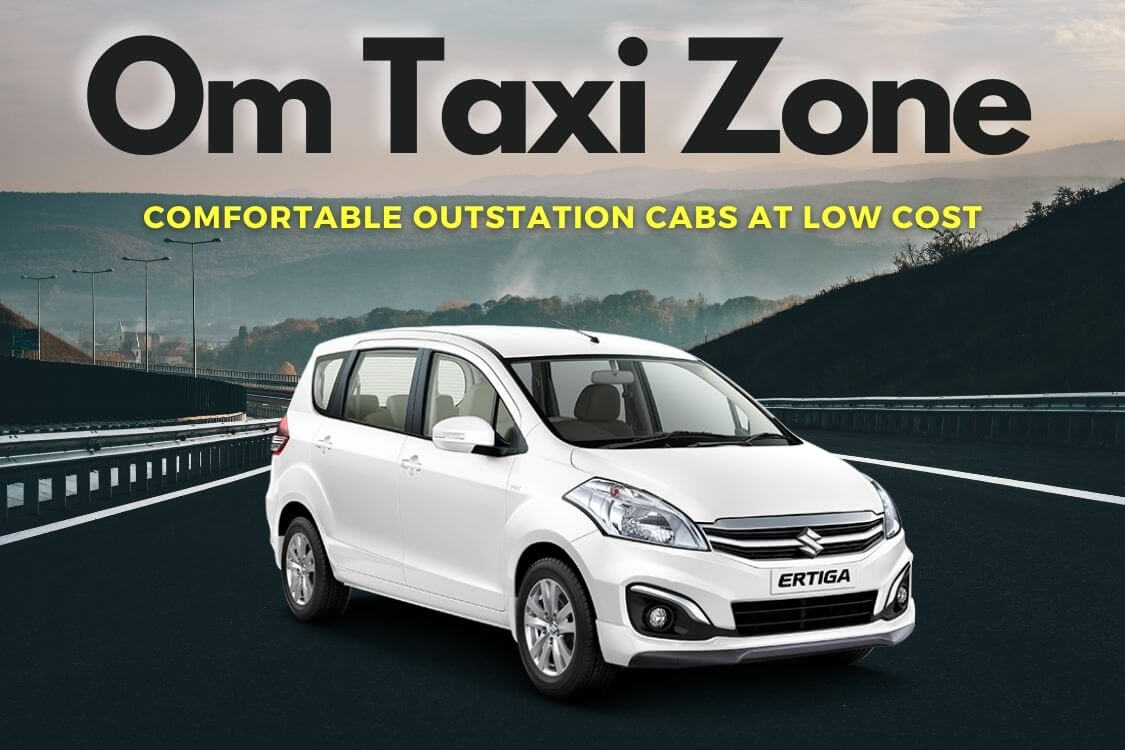 55000+ Happy Customers in Rajasthan!
Om Taxi Zone is the trusted choice of thousands of travelers in Rajasthan when it comes to round-trip taxi service, Jaipur local sightseeing taxi, and one way cab booking. 
We offer a broad range of cars and tempo traveler in Jaipur, which are sanitized before every trip. Based in the Pink City of Jaipur, Om Taxi Zone provides Toyota Etios, Swift Dzire, Toyota Innova, Toyota Innova Crysta, as well as tempo traveler booking at a cost-effective price. We are well-known in the state for our one way taxi service in Jaipur. 
Taxi Service in Jaipur for Outstation
We offer a wide range of routes to popular destinations, allowing you to go on memorable journeys and create unforgettable experiences. With our taxi services in Jaipur, you can choose to travel anywhere in Rajasthan and all over India. Below are some of our most popular routes that passengers like you choose to book taxi in Jaipur. 
Visit the Blue City with our outstation taxi from Jaipur to Jodhpur at a low cost. 
Book one way or round-trip taxi with our affordable Jaipur to Udaipur taxi service. 
Looking for a comfortable Jaipur to Ajmer taxi? Call us now for the best experience. 
Travel to the capital of India with our Jaipur to Delhi one way taxi & round-trip service. 
Book One-Way Taxi in Jaipur
At Om Taxi Zone, we understand that travel plans can be diverse and flexible. That's why we offer one-way taxi services in Jaipur, providing you with the utmost convenience and freedom to travel on your own terms, while saving 50% of your cab fare.
Some of the most popular routes for our one-way cab in Jaipur include:
Arriving at the Jaipur airport and unsure about how to reach your destination? Don't worry, we have the perfect solution for you! Navigating a new city can be daunting, especially when you're dealing with the stress of airport travel. Figuring out transportation options and ensuring a smooth transition to your desired location can be a hassle.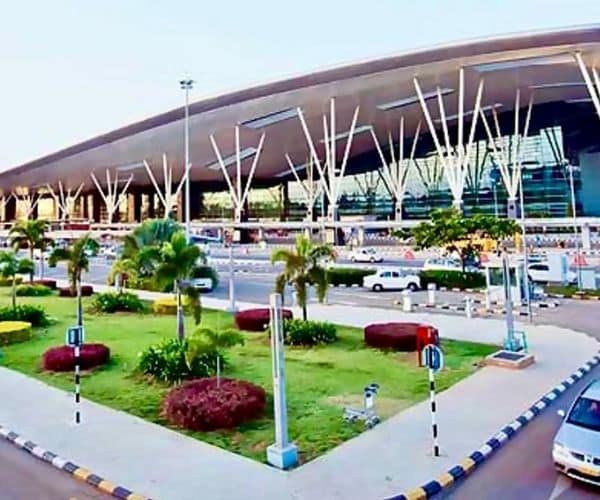 Our Jaipur Airport Taxi Service offers you a reliable and hassle-free solution for seamless airport transfers. We specialize in providing comfortable and convenient cab services from Jaipur airport to anywhere within the city or even to other cities in Rajasthan and across India.
We understand the importance of time, especially when it comes to catching flights or reaching your destination after a long journey. Our dedicated drivers will be waiting for you at the airport, ensuring prompt and punctual pickup. Say goodbye to waiting in long queues or dealing with unreliable transportation options.
We strive to make your airport transfer experience as smooth as possible. From the moment you step off the plane, our courteous drivers will assist you with your luggage and guide you to your comfortable and well-maintained cab. 
Whether you're heading to a hotel, a business meeting, or exploring a different city, our airport taxi service in Jaipur covers all your needs. We offer convenient transfers to any location within Jaipur, as well as to popular destinations like Jodhpur, Udaipur, Jaisalmer, Delhi, Agra, Gwalior, and more.
Experience the vibrant and rich heritage of Jaipur with our sightseeing cab services. Discover the iconic landmarks, majestic forts, splendid palaces, and vibrant markets that make Jaipur a must-visit destination. Our knowledgeable drivers will guide you through the city, providing insights into its history and culture. Whether you have a day or multiple days to spare, our taxi service in Jaipur ensures a convenient and immersive exploration of Pink City's treasures.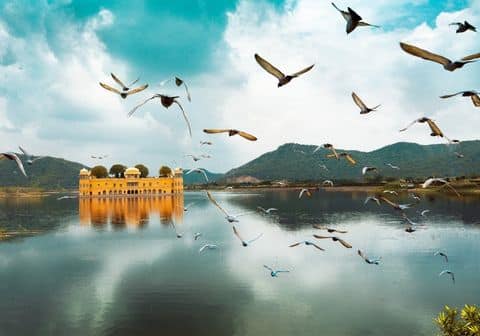 Make the most of your day in Jaipur with our 1-day Jaipur taxi package. Visit attractions like Amber Fort, Hawa Mahal, City Palace, Jantar Mantar, and explore the bustling markets for a memorable experience.
Extend your exploration with our 2-day tour package. Dive deeper into Jaipur's history and visit additional sites such as Nahargarh Fort, Albert Hall Museum, Jaigarh Fort, and enjoy cultural experiences like Chokhi Dhani.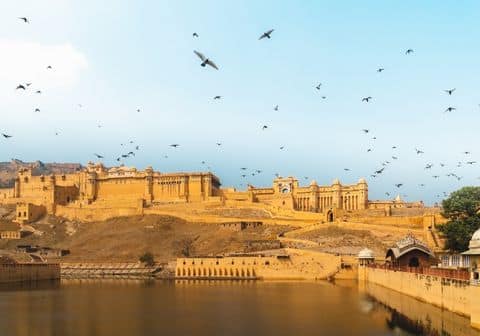 Immerse in the grandeur of Jaipur with our 3-day tour package. In addition to the popular attractions, you explore the Jal Mahal, Birla Mandir, local bazaars, and the evening light and sound show at Amer Fort. Call us to know itinerary. 
Easy Online Cab Booking in Jaipur
At Om Taxi Zone, we strive to make your travel experience effortless and convenient. We understand the importance of a seamless reservation process, which is why we offer multiple options for you to book your desired cab service in Jaipur, whether you're on the go or planning in advance.
For a quick and hassle-free booking experience, simply give us a call on our dedicated phone number. Our friendly and knowledgeable customer support team will be more than happy to assist you in selecting the right cab for your needs, answering any questions you may have, and guiding you through the booking process. With a few simple steps over the phone, your cab will be reserved, and you'll be all set for your upcoming journey.
Prefer the convenience of online cab booking in Jaipur? Visit our user-friendly website and fill out the booking form with the necessary details. Provide information such as your pickup location, drop-off location, date, time, and any specific requirements you may have. Once submitted, our team will promptly process your request and confirm your booking. It's as easy as that!
Why Choose Us for Taxi Service in Jaipur?
CALL US NOW TO BOOK BEST CAB SERVICE IN JAIPUR!
We are always looking forward to hearing from our customers and serve them in the best way. Call our team now to book one way cab from Jaipur to Udaipur, Jodhpur, Delhi, Kota, Jaisalmer, Pushkar, and plenty of more cities in Rajasthan and India. 
Our Fleet for Cab Service Jaipur
Choose the car according to the number of passengers and your comfort.
What Passengers Say About Our Taxi Service in Jaipur?
Booked for long distance overnight travel. Arrived in time, Driver was polite and knowledgeable about roads, safe driving and over all rates were very reasonable as compared to others. I look forward to hiring them again.
We had a week long trip to Ajmer and booked this service through some reference of our friend. Excellent driver and well maintained car. Our driver was in no hurry at any time like many others usually do. Highly recommended.
Om taxi zone gives very good job and I'm so happy to ride with them. When I book the taxi for Khatushyam ji , salasar Balaji I experienced many more things they told me about all the things properly and about all the temples .
Find answers to some of your common questions while booking cab for Jaipur sightseeing.
Book Outstation Taxi in Jaipur Now!
Fill the form for one way cab booking, Jaipur sightseeing taxi, or any other outstation taxi from Jaipur. 
Amer Fort
Located on a hilltop, Amer Fort is a magnificent fort and palace complex known for its impressive architecture and stunning views of the surrounding landscape. Don't miss the intricate carvings, mirror work, and the opportunity to ride an elephant up to the fort.
Hawa Mahal
Also known as the Palace of Winds, Hawa Mahal is an iconic landmark of Jaipur. Its unique honeycomb-like structure with numerous small windows allows cool breezes to pass through, making it a perfect spot to witness the vibrant streets below.
City Palace
Situated in the heart of Jaipur, the City Palace is a splendid blend of Rajput and Mughal architectural styles. Explore its museums, courtyards, and gardens, and marvel at the royal artifacts and artifacts on display.
Jantar Mantar
A UNESCO World Heritage Site, Jantar Mantar is an ancient astronomical observatory built by Maharaja Jai Singh II. Discover the various stone instruments used for astronomical calculations and learn about the astronomical prowess of ancient India.
Nahargarh Fort
Perched on the Aravalli Hills, Nahargarh Fort offers breathtaking panoramic views of Jaipur. This fort provides a tranquil escape from the city's hustle and bustle, and its architectural grandeur is truly captivating.
Situated amidst Man Sagar Lake, Jal Mahal is a stunning water palace that appears to float on the lake's surface. Though visitors cannot enter the palace, the picturesque view and the opportunity for boat rides make it a must-visit spot.
Albert Hall Museum
Located in the Ram Niwas Garden, the Albert Hall Museum is the oldest museum in Rajasthan. It houses an extensive collection of artifacts, including ancient coins, sculptures, paintings, and textiles, providing insight into Rajasthan's rich history and culture.
Birla Mandir
Also known as the Laxmi Narayan Temple, Birla Mandir is a beautiful temple dedicated to Lord Vishnu and Goddess Laxmi. The temple's stunning architecture, intricate carvings, and the tranquil ambiance make it a popular place for devotees and tourists alike.
Jaigarh Fort
Situated on the same hill as Amer Fort, Jaigarh Fort is known for its impressive defensive structures and the largest cannon on wheels, Jaivana. Explore its vast premises, underground passages, and enjoy the stunning views of the city from its watchtowers.
Jaipur Zoo
Located near the Albert Hall Museum, Jaipur Zoo is a popular attraction for wildlife enthusiasts. It houses a variety of animal species, including tigers, leopards, elephants, and birds, offering visitors a chance to observe and learn about diverse wildlife.
We believe in providing our customers with affordable and transparent pricing for taxi services in Jaipur. We understand the importance of budget-friendly travel options without compromising on quality and comfort. 
Competitive Rates
We offer competitive taxi fares in Jaipur, ensuring that you get the best value for your money. Our pricing is designed to be affordable and competitive in the market, making your travel experience with us cost-effective.
Transparent Pricing
We maintain transparency in our pricing structure. The fare you see at the time of booking is the final price you pay, with no hidden charges or surprises. We believe in providing clear and transparent information about our fares to avoid any confusion or inconvenience.
Fare Calculation
Our taxi fares in Jaipur are calculated based on the distance traveled and the type of vehicle chosen. We have a fair and standardized fare calculation system in place to ensure consistency and accuracy in pricing.
No Surge Pricing
Unlike some other taxi services, we do not practice surge pricing. This means that even during peak hours or high-demand periods, our fares remain the same. You can rely on us for consistent and fair pricing throughout the day.
Multiple Payment Options
We offer multiple payment options for your convenience. You can pay for your taxi fare in Jaipur using cash, debit cards, credit cards, or popular digital payment platforms. We aim to provide a hassle-free payment experience to enhance your overall satisfaction.