Pushkar Camel Fair Festival 2023 is here to showcase the vibrant culture of the state of Rajasthan. Held once a year, the Pushkar Mela is counted among the largest camel fairs globally. 
Regardless of the city, state, or nation you belong to, you would love to visit the Pushkar camel festival at least once in your life. In this quick yet comprehensive write-up, we have curated everything about the famous Pushkar camel fair festival, reasons to attend it, activities to do, events, etc.
Pushkar Camel Festival 2023 Dates & Time
This popular fair or mela is more than a hundred years old which is a livestock fair with some vibrant cultural activities. The dates of the fair are decided according to the Hindu calendar (beginning of Kartik to Kartik Purnima).
So, the Pushkar fair dates for 2023 are:
11th Nov to 19th Nov
It starts early in the morning at 6:30 AM and ends at 9:00 PM.
What to Expect at Pushkar Mela 2023?
Also known as Kartik Mela and Pushkar Ka Mela, the famous Pushkar fair is held in Pushkar City near Ajmer in Rajasthan. It hosts over 2 lakh visitors every year, with the highest record of more than 10 lakh visitors in 1998. Pushkar is a pilgrimage place for Hindus like Haridwar and Rishikesh.
At the festival, you will see the trading of camels, horses, and cattle. It is the largest livestock fair in India. Here are the primary things to expect at the Pushkar Camel Festival 2023:
1st Day
Harmony Marathon
Hot Air Baloon Flights
Playing of some renowned band, like Indian ocean
2nd Day
Contest related to decoration and dance of camels
Safari during sunset
3rd Day
Contest related to horse dance
Cultural night
4th Day
Spiritual walk
Cultural performances
5th Day
Playing cricket match in Lagaan movie style
Turban tying
Kite flying
Mustache contest
6th Day
Musical chair game playing
Matka race
7th Day
Doing some adventurous activities
8th Day
Huge cultural event
Matka race
Camel race
Kala jattha
Event ending ceremony
Activities and Things to do at Puskar Camel Fair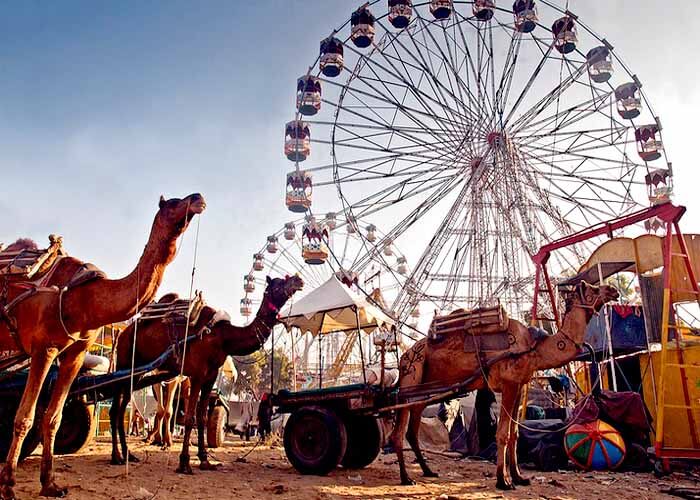 If you are visiting the famous Pushkar Mela in 2023, you must not miss doing the following activities there:
1. Shopping at Shilpgram Bazaar
The Shlipgram Bazaar is known for paintings and jewelry created by rural artists. Take some great memories along while returning.
2. Do Adventurous Activities
Go for a balloon flight, quad biking, and camel safari for experiencing the aerial view of Pushkar Fair and the desert.
3. Take Part in Photography Competition
If you love to click beautiful photos, you shouldn't miss the photography contest at Pushkar Camel Fair 2021. This is organized by Rajasthan Tourism and E Factor Entertainment.
4. Participate in Mustache Contest & Matka Race
These are some fun activities that are worth participating at the fair to create lovely memories.
5. Try Local Dishes of Pushkar and Rajasthan
If you don't belong to Rajasthan, then some dishes like Daal Baati Churma are worth the try.
Wrapping Up:
Pack your bags for Pushkar Camel Fair in Rajasthan for a surreal experience. You can book a taxi in Pushkar or Ajmer to travel to the fair and visit the complete fair effortlessly. The nearest Airport is Kishangarh Airport (Ajmer), while the nearest Railway Station is in Ajmer, which is only 10 km from Pushkar.