The natural touch in metropolitan cities is rare and if you want to enjoy nature to the fullest in such big cities like Jaipur, Smriti Van is the best choice one can make.
The lively hours in the morning make this heavenly. You can visit this place to experience warmth and peace in the pink city. You can click exotic pictures of nature as there is no prohibition on photography.
Located in Gandhi Nagar, Near RTO Circle on JLN Path, it is well connected to the city. The Pincode of Smriti Van in Jaipur is 302004.
Book Jaipur Sightseeing Taxi for a memorable and hassle-free travel experience.
What is Smriti Van in Jaipur?
Smriti Van park is a biodiversity forest in the capital of Rajasthan known for souvenirs of nature. It is spread over 108 acres in the city. It is the extended area of Jhalana Wildlife Park.
It is called Kulish Smriti Van as the former Chief Secretary of Rajasthan Mr. Kapoor Chand Kulish is the reason behind this park. It is financed by the Jaipur Development Association and Rajasthan Patrika.
From time to time, there are many events and presentations organized in the park. Practice sessions and plantation activities are very regular in the park.
Suggested Reading: BAPU BAZAR JAIPUR: ALL DETAILS 2023 (TIMINGS, SHOPS & MORE)
History of Smriti Van Jaipur
On the 8th of October, the Ex-Chief Minister of Rajasthan, Vasundhara Raje laid the foundation of Smriti Van. Later, it was opened for the public to see after more than two years on 8th December 2007.
It was initially established during floods in 1981. There was a huge ditch in the area due to floods. Locals started planting trees in the area to pay homage to their loved ones. This is the reason the biodiversity of the areas started to increase.
Later, the government of Rajasthan developed it and nurtured it under various schemes. One of the major schemes for renovation is Green Rajasthan Campaign, which also changed its name to Kulish Smriti Van.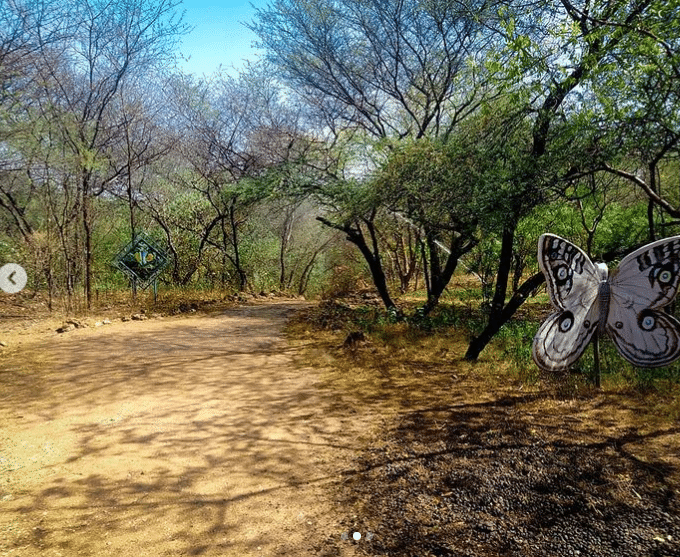 Smriti Van Jaipur Segments
Smriti Van has 11 different segments in it. Here is the information about them:
1. Vasundhara Van
It is one of the most beautiful segments in the Van. Plant-rich areas include Mogra, Almond, Champa, Coral trees, etc. in it.
Multiple pathways are there that are created without affecting the soil and nature. There are many small lawns as well.
2. Aravali Van
It has plants that are used in Ayurveda and can cure multiple diseases. Rohida, Gugal, Dhak, Saalar, Khejdi, Hawan are some of the popular trees here. Plants are trees from Aravali hills planted in this part of the Van.
3. Java Kusum Van
This is the part of the forest where plants from all over India are kept. Colourful plants are very popular in this area of the Van.
4. Champa Van
This is a segment with flowers. The good-smelling flowers are in the area and there are more than 108 species of flowers planted here.
5. Dhanvantari Van
This part is the largest in the Smriti Van. There are more than 200 types of plants in the area with Ayurvedic importance present in this part. Plants like Amla, Neem, Giloe, Rudraksha, Jamun, Kathal, and Bhrigraj are found here.
6. Maru Van
Maru is a term that came from Marushtal which means desert. This segment of Smriti Van has plants and trees that are found in deserted areas. Xerophytes plants like Agave, Cactus, Euphorbia, etc. are there in this part. There are more than 64 types of plants.
7. Rashtriya Van
It is a segment that has plants from all over the country. Plants like Almonda, Shisham, Gambhiri, Rosewood, Sita Ashok, Siduri, evergreen flower range, and Bougainvillea are well-known plants in this part.
8. Vrindavan Van
This segment of the Van is famous for the water plants in the area. It has a proper drainage system as well. It is the home of plants like Mogra, Ruhi, and Rat Rani. The reason behind these plants is to spread an increasing aroma around the foul smell of drainage.
9. Sarovar
It is a five feet deep reservoir that is used for storing water. Many flowers that are planted in the water can be seen around this area. Sarovar is also home to fishes and ducks.
There are a total of nine ponds in this segment. Immigrated birds can also be seen near the Sarovar in the season of winters.
10. Museum
It is an area where visitors are guided about the Smriti Van. Information about plants and birds in the Van is provided with the help of relevant photographs. There are four halls in the museum and one of the halls is used for showing films on nature.
11. Nursery
This segment of Van is a nursery where all the varieties of plants are kept and nurtured. The care of the plants is also done in this section of the Van. This nursery has every modern technology that there is.
Must Read: 7 MOST FAMOUS FESTIVALS OF RAJASTHAN YOU SHOULD NOT MISS
Smriti Van Jaipur Timings
It takes almost two to three hours to visit the park but it is best to visit in the morning time. You can feel the wind early in the morning.
– Smriti Van Jaipur opening time: 6:00 AM
– Smriti Van Jaipur closing time: 5:00 PM
Smriti Van Jaipur Ticket Price
You can visit the forest for free. The entry fee of Smriti Van garden is zero. With a valid ID, you can roam in the area during the timings mentioned above.
Smriti Van Jaipur: Park & Garden for Couples
Kulish Smriti Van Jaipur is the best place for couples. They can enjoy photography in the various segments of the area. There are various tracks made for tourists as well.
The peaceful environment with rich natural vibes is indeed the best place for couples in Jaipur.
Best Hotels Near Smriti Van Park in Jaipur
If you are looking to stay near the Smriti van wildlife park, here are some of the top hotels in the nearby area:
Red Fox Hotel
Hotel Jaipur Palace
Hotel Sarovar Premiere
Hotel Krishna
Citrus Hotel
Park Hansa Hotel
Also Read: PUSHKAR CAMEL FAIR: EVERYTHING YOU NEED TO KNOW ABOUT PUSHKAR MELA
Best Restaurants Near Smriti Van Garden in Jaipur
As the food is not allowed in the park. You should keep an eye on the restaurant in the nearby areas. Here are the best restaurants in the area:
Shiv Shakti Chat Bhandar
Airr Toast
Jaipur Modern Restaurant
Rajput Room
Doorbeen Restaurant
Indian Coffee House
Top Places to Visit in Jaipur Near Smriti Van Park
There are many tourist attractions near Smriti Van in Jaipur. Here are top places that are very near and attract visitors from every part of the world:
World Trade Park
Jawahar Kala Kendra
Jaldhara Waterfall
GT Market
Jawahar Circle Garden
Patrika Gate
Best Way to Reach Smriti Van Park Jaipur
Since it is located in the city, you can reach it easily. A parking facility is also available if you want to visit it with your vehicle.
Here are some of the ways to reach Smriti Van other than by personal vehicle:
Nearest Railway Station
Gandhi Nagar Railway Station, which is 2.5 km away.
Nearest Bus Stand
Sindhi Camp Bus Stand, which is 6 km away.
Distance from Jaipur Airport
It is 5 km away from Jaipur Airport.
Nearest Metro Station
Mansarovar metro station, which is 8 km away.
Taxi Service
Taxi services are also available in the area, book a taxi in Jaipur with us for convenience and the best experience.
Smriti Van Jaipur FAQs
What is the entry fee for Smriti Van Jaipur?
Smriti Van Jaipur's entry fee is zero. With a valid ID, one can roam in it for free.
What is the location of Jaipur Smriti Van?
It is located on JLN Marg, Near the RTO circle in Gandhi Nagar of Jaipur.
What is the opening time of Smriti Van in Jaipur?
It opens early at 6 AM.
What is the closing time of Smriti Van Jaipur?
It closes at 5 PM.
Is Smriti Van Park good for couples?
It is a couple-friendly park in the city which welcomes hundreds of couples every day.
Is Smriti Van Ground in Jaipur open on Sundays?
Yes, it stays open every day of the week.
What is the best time of the day to visit Smriti Van Park Jaipur?
Winters are the best time to visit the park as you can see immigrated birds as well. If you talk about the daytime, morning is the best time for visiting the Smriti Van.
Book Local Sightseeing and Outstation Taxi in Jaipur