Rajasthan is home to about a hundred of India's nearly 2000 step wells. The state is well-known for its well-preserved stepwells, one of which is Panna Meena Ka Kund in Jaipur. It is also known as Panna Mina Kund, Panna Meena Baori, and Panna Meena Bawri.
A baori is an Indian term for a stepwell. It's an old water storage tank that a flight of stairs may access.
The Panna Meena Ka Kund Jaipur is an architectural marvel in India that attracts thousands of visitors annually. Furthermore, the 200-meter-deep stepwell draws travellers from all over the world. It is a hidden beauty in Jaipur that most people overlook as they rush to the famous Amer Fort.
Suggested Reading: JAL MAHAL JAIPUR: RAJASTHAN'S AESTHETIC WATER PALACE
The Famous Stepwell in Jaipur
This secluded stepwell, however, is well worth including on your agenda while visiting the Pink City of Rajasthan. It was erected almost 400 years ago and will take your breath away with its stunning architecture and labyrinth-Esque stair illusion! Most people will recognize this step well from viewing famous photographs on social media.
Panna Meena ka Kund Jaipur is a square-shaped stepwell with connected stairs on all four sides and a chamber on the northern wall. This room is thought to have been utilized for religious rites before weddings or during popular festival dates.
It is not one of Rajasthan's largest stepwells, but it is well worth a visit. The local municipal authorities have maintained this step well for the previous two decades. Thus many tourists come here to snap pictures. In the past, this stepwell was used to store water.
This stepwell was created in the 9th century by King Mihir Bhoj, and it was named after him Chand Baori. Chand Baori is a step well in Abhaneri village, Dausa district, near Jaipur, Rajasthan.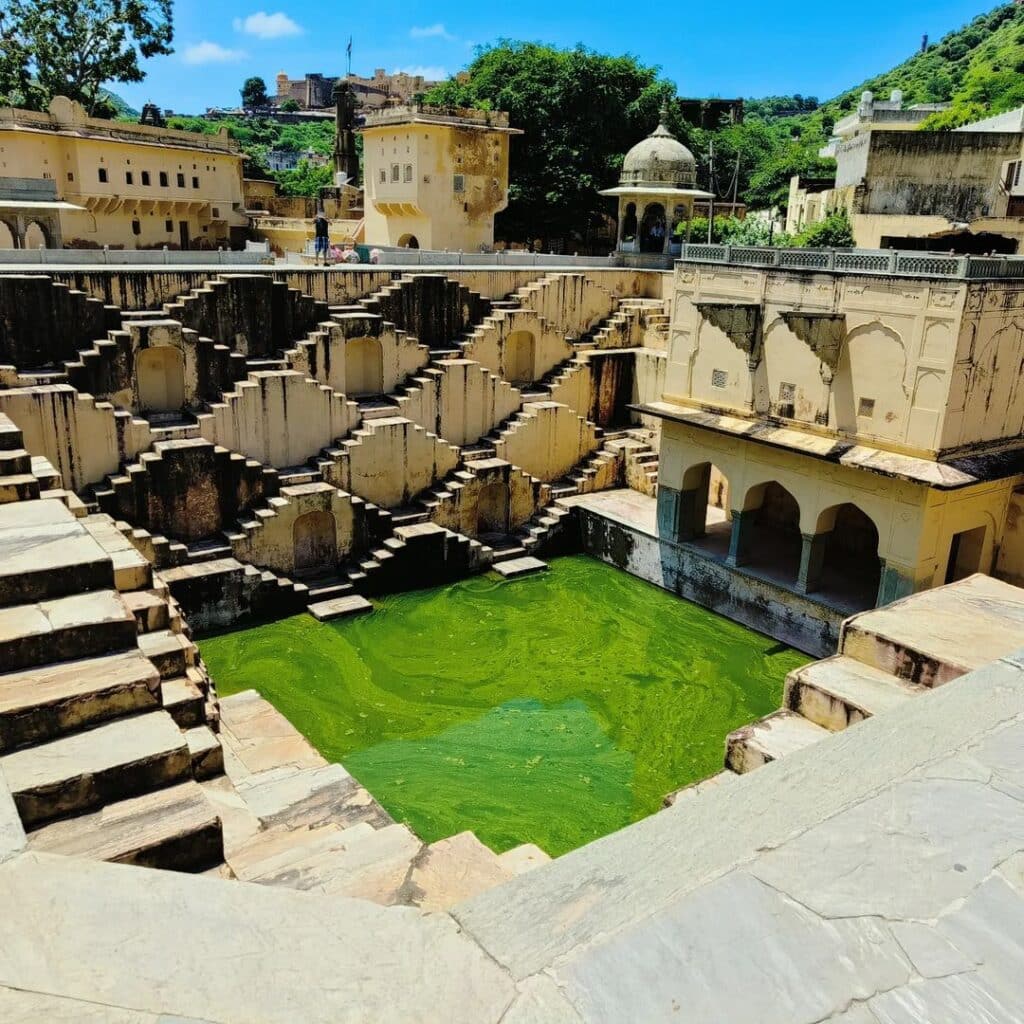 Panna Meena Ka Kund History and Story
There is no documented history of how this Baori came to be known as Panna Meena or Panna Mian Kund. According to local mythology, during the time of Maharajah Jai Singh, a eunuch named Panna Miah worked in Amer Fort and is credited with constructing this stepwell.
It is thought to originate from the 16th century. Another idea holds that it was built by the native Meenas, who were the original residents of Amer before Rajputs arrived in the 10th and 11th centuries. Locals think Panna Meena was a brave warrior, creating this stepwell in his honour.
According to certain historians, Rajputs slaughtered Meena chiefs who governed Amer in Panna Meena Kund and came to control this town.
This Story is not mentioned in any of the mainstream history texts. What we do know is that Meenas held Amer before the 11th century. Panna Meena Kund is unlikely to be older than the 11th century. People add their tales and stories in the lack of records. The Exact truth is that we know relatively little about its past.
Suggested Reading: 6 MOST FAMOUS PLACES TO VISIT IN JAISALMER 
This Baori's modest presence is one of its distinguishing features. The steps in Panna Meena ka Kund are on three sides, so there is plenty of space to relax, converse, or enjoy the views.
In addition, there are design elements such as niches between the stair floors. It's possible they were constructed with some function in mind. On each of the four corners, four octagonal pavilions are known as Chhatris.
This Baori was more than just a water supply. It was a location where the ladies could talk and catch up on each other's lives.
As a result, it is more than just a piece of architecture; it is a vital aspect of our culture and history. By visiting this stepwell, you can probably imagine how life may have been hundreds of years ago.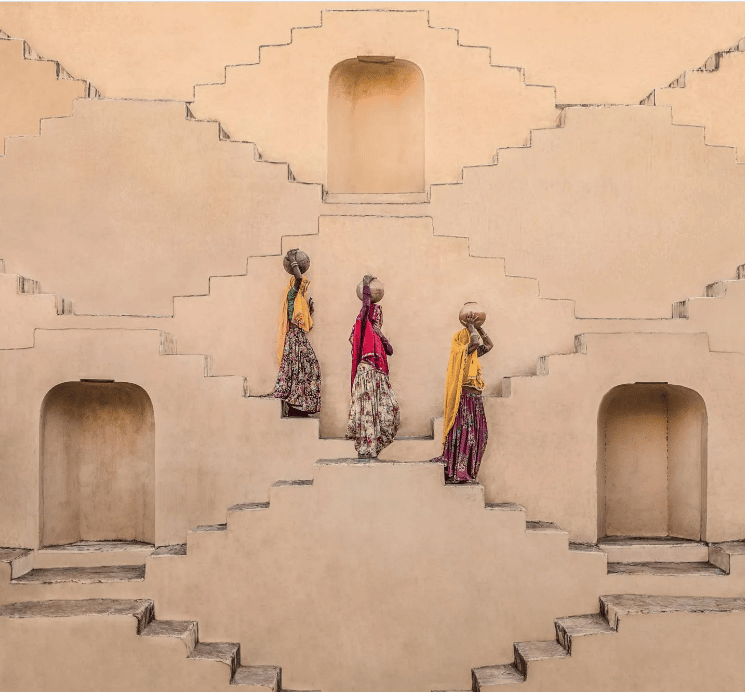 Panna Meena Kund's simplicity, symmetry, and architecture appeal to Everyone. Jaipur has a significant number of antique Stepwells.
Except for this one and the one at the Nahargarh Fort, most of these step-wells are in disrepair. This is Jaipur's most accessible and attractive stepwell.
As previously stated, this Baori is no longer in use. It does, however, function as a playground for the local guys, who gather and organize diving and swimming competitions.
Why Should you Visit Panna Meena Kund Stepwell Jaipur?
For one thing, Panna Meena Kund is Jaipur's sole fully restored and operational stepwell. It is from a time before there was piped water. It is no longer used for the purpose for which it was created. Instead, it has served its purpose for millennia.
The Baori, also known as the Bawri, was a member of the community and civilization that surrounded it. For some time, it served as a primary source of drinking water, particularly during periods of low rainfall.
It is an eight-story stepwell meant to allow water access at any level by a flight of steps. Many other Stepwells in Rajasthan and Gujarat are far more extensive and beautiful than this one. Even yet, Panna Meena Kund is lovely in its own right.
Suggested Reading: SMRITI VAN JAIPUR: TIMING, TICKET, FULL GUIDE
Architecture of Panna Meena Ka Kund Jaipur
Panna Meena ka Kund is a small stepwell compared to Abhaneri's Chand Baori, which is gigantic and has an intriguing history.
Panna Meena Ka Kund, also known as Panna Mian Kund, Panna Meena Baori, and Panna Meena Bawri, is a well-preserved stepwell or Baori in Jaipur that is easily accessible to all tourists visiting Amer. It is a must-see attraction in Jaipur.
Panna Meena ka Kund is an eight-story, 200-foot-deep stepwell with 1800 symmetrical steps. It was built in the 16th century. These staircases have a geometric structure but are organized in a unique crisscross pattern.
What is The Location of Panna Meena Kund in Jaipur?
Panna Meena Ka Kund lies in Amer town, near the Ambikeshwar Mahadev Temple and the Anokhi Cafe.
The exact location or address of Panna Meena ka Kund is: Near Amber Fort, Jaipur, Rajasthan, 302028, India.
Timings
Panna Meena Ka Kund is open from 6:00 AM to 6:00 PM.
Entry Fee or Ticket Price
There is no entry fee for Panna Meena ka Kund.
How to Reach Panna Meena Ka Kund Bawri?
Nearest Airport
Panna Meena is 21.3 kilometres from Jaipur International Airport. It's best to take a taxi from here to the fort.
Nearest Bus Stand
Panna Meena is located 12.4 kilometres from Sindhi Camp Bus Stand and is easily accessible from there.
Nearest Railway Station
Panna Meena Ka Kund is 14 kilometres from Jaipur Junction Railway Station. Take a taxi or auto from here.
By Local Sightseeing Taxi
The best way to reach and visit this famous stepwell is by booking a taxi in Jaipur for local sightseeing. It will offer you the best and most convenient experience.
Interesting facts about Panna Meena Kund Jaipur
As you progress into the depths of Chand Baori, you will notice a 5-6 degree drop in temperature. It is believed that this stepwell fills up to the top with water during the monsoon.
The climate in this location is arid, and there was a lot of water scarcity at the time, so only a deep stepwell could be built. The water stored in this well was sufficient to cover the requirements of the locals for a year.
Bavdi is an Indian subcontinent that was the most famous water source in ancient times. These are often man-made pools of water that can be accessed by descending a set of stairs.
People can acquire and sit on multiple ladder levels and have verbal trade conversations. Though Panna Meena ka Kund is no longer a water source, it still acts as a gathering place for locals and tourists.
During the summer and monsoon, you may watch the neighbourhood's little boys compete by jumping from the bank above into the pool.
Suggested reading: BAPU BAZAR JAIPUR: ALL DETAILS (TIMINGS, SHOPS & MORE)
Best Restaurants Nearby
Some of the top restaurants near Panna Meena ka Kund are:
The A's kitchen
Chokha Amer Restaurant
Zeeman Restaurant
VINTAGE KITCHEN
Kokum Bistro
Amer Dhani
Royal Rajwada Multicuisine Restaurant
Rainbow Restaurant
Green Hill Restaurant
Baradari Restaurant & Bar
The Forresta Kitchen & Bar
Best Hotels Nearby
Some of the top hotels near Panna Meena ka Kund are:
Hotel Surya Haveli
Hotel Raj Bagh Palace Jaipur
Anand Mahal Resort
Hotel Amer Classic
Hotel Amer View
KK Royal Hotel & Convention Centre
Hotel RAJBAGH Palace
The Amer Valley Jaipur
Hotel Surya Haveli
Hotel Sarang Palace – Boutique Stays & Candlelight Dining
Hotel Fountain Hills
Nearby Famous Places to Visit
Sheesh Mahal (1.04 km away)
Shila Devi Temple (1.1 km away)
Amer Fort (1.1 km away)
Panna Meena's Elephant (1.13 km away)
Rajasthan Small Cottage Industries (708 meters away)
Elephant Activity Planner "Zoo" (1.29 km away)
Jaigarh Fort (1.14 km away)
Jaipur Jeep Safari (1.5 km away)
FAQs Related to Panna Meena Bavdi
What is Panna Meena Ka Kund?
Panna Meena ka Kund is a square-shaped stepwell with connected stairs on all four sides and a chamber on the northern wall.
What is the Panna Meena Ka Kund distance from Jaipur?
Panna Meena ka Kund is 14 km from Jaipur city.
What is the address of Panna Meena Ka Kund in Jaipur?
The Location of Panna Meena ka Kund Address is: Near Amber Fort, Jaipur, Rajasthan, 302028, India.
How far is Panna Meena Ka Kund from Amer Fort?
The distance between Panna Meena ka Kund and Amer Fort is approximately 1 km, 10 mins by foot.
Who built Panna Meena Ka Kund?
Maharaja Jai Singh built the Panna Meena ka Kund.